My Favorites List
We are very excited to announce some new feature updates to the My Favorites list on Grimco.com! These new features are very responsive, user-friendly and can house all of your favorite products in one place.
My Favorites Location
Once logging in to Grimco.com, you can find your My Favorites list towards the top of the page. You cannot access your My Favorites if you are not logged in or do not have a Grimco.com account.

Creating and Deleting Lists
Upon reaching the My Favorites page, you have the ability to create a new list or even create multiple lists. This can come in handy when you have different projects going on, seasonal shifts, company departments, etc. At any time you no longer need a list, it's just as easy to remove. You can access and toggle between any of your lists from the left hand side.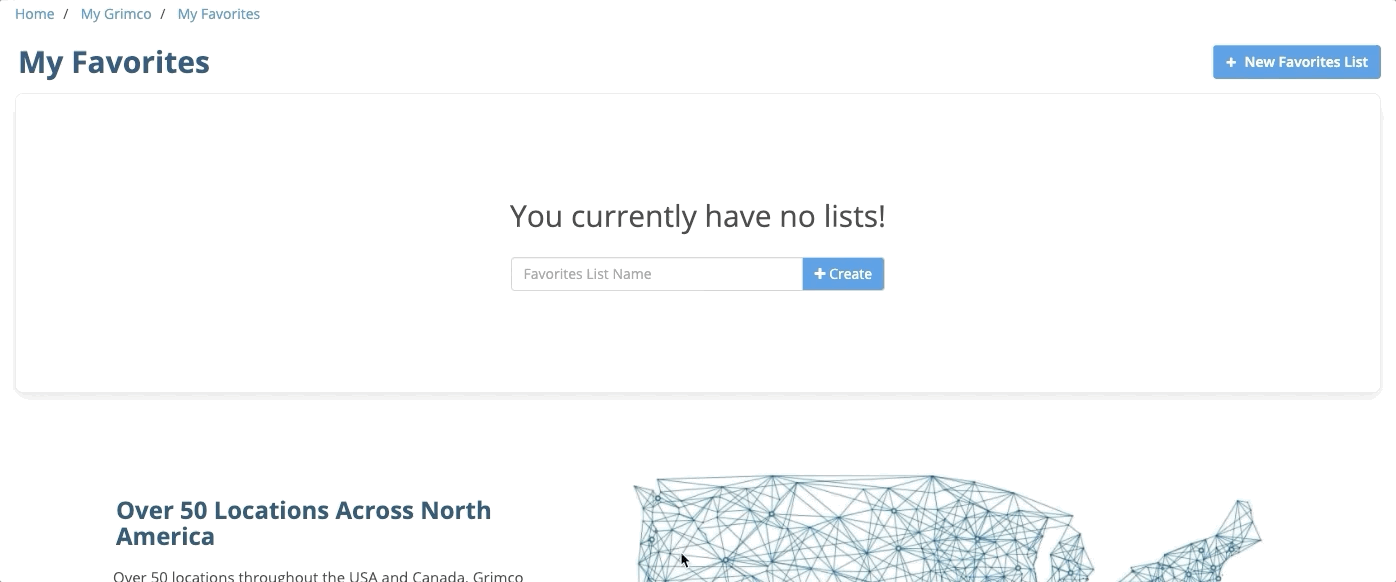 Adding Products
Adding products to your list is easy to do right from the product page! Upon reaching a product page, like this HanleyLED Power Supply, you will see an 'Add to Favorites' drop down option bar. Click on that button and you will be able to add to a certain list, add to multiple lists, remove from a list, or even create a new list!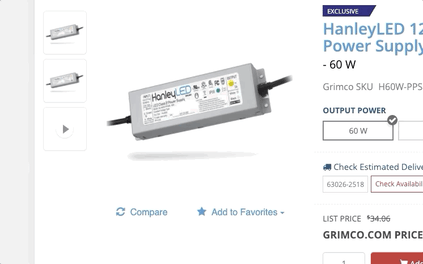 List Capabilities
The My Favorites list is a one stop shop view to your products in a way that makes sense to you. By clicking on the 'Sorting by:' drop down bar, view your list from A-Z or Z-A, your purchase frequency, or last purchased date.

You can even see the estimated shipping time to your local zip code, delete an item from the list all together, or write a review. These are your favorite products, so tell others why they need them too!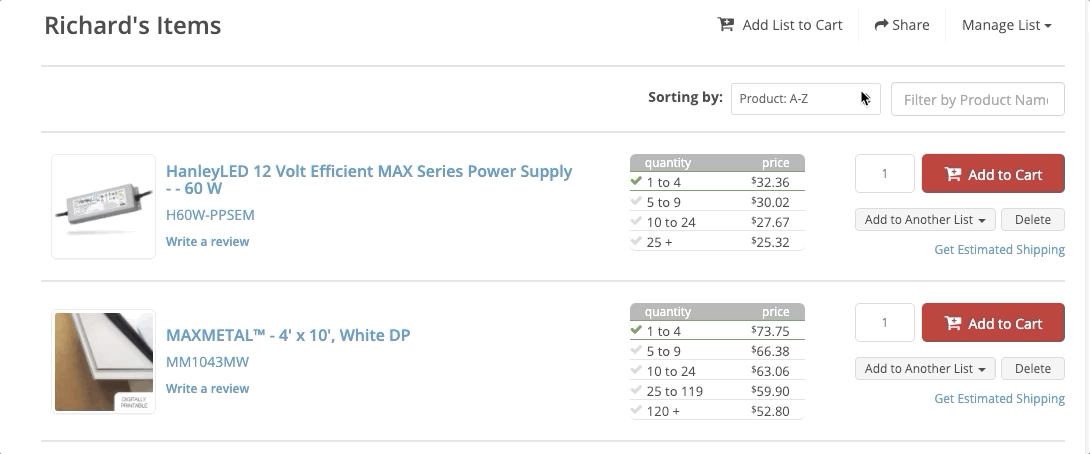 Adding From One List to Another
Adding products from one Favorites list to another is just one click away. The 'Add to Another List' drop down bar will allow you to copy an item to another list. Upon clicking the list you want to add the item to, you will see the product photo float into that list.



Adding the Whole List to Your Cart
Want shopping to be easier? You ask, you shall receive. From your Favorites list, you can add all the items in one list straight into your cart. Adjust the quantities you need for each product and select the 'Add List to Cart' button - that's it! You will see the green check marks confirming the action and your cart will be reflected in real time. Go check out and continue on with your day!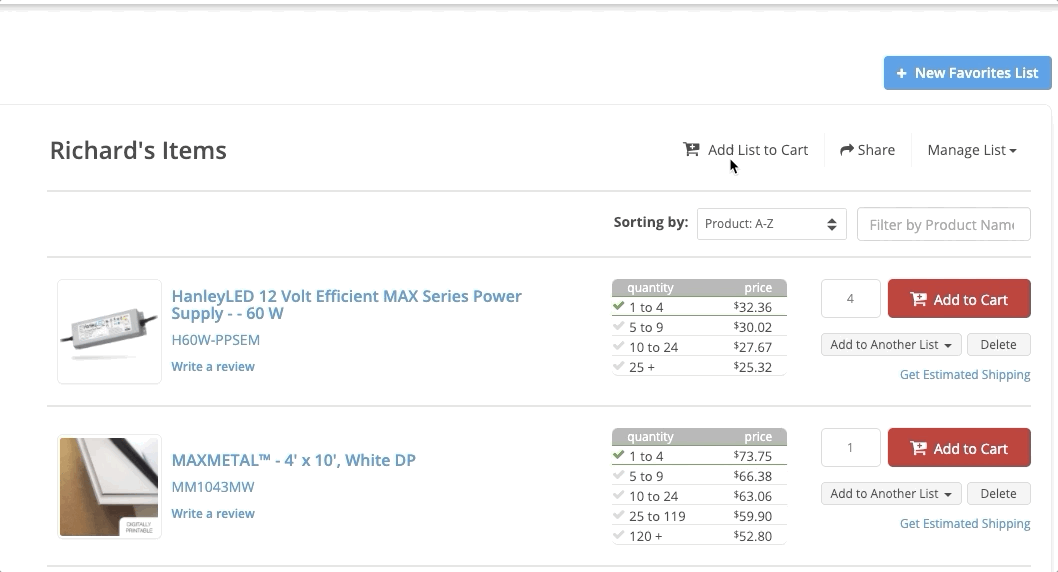 Sharing a List
These are your FAVORITE Grimco products - share them! This feature comes in handy when you need to share a list within your department, with another shop, or even receive a list from your Grimco Representative! Click on the 'Share' arrow as seen below, copy the link, and send.
You need to be signed in to your Grimco.com account to use the My Favorites functions. The person you shared a list with can create a list of their own, add these items to their cart - you name it!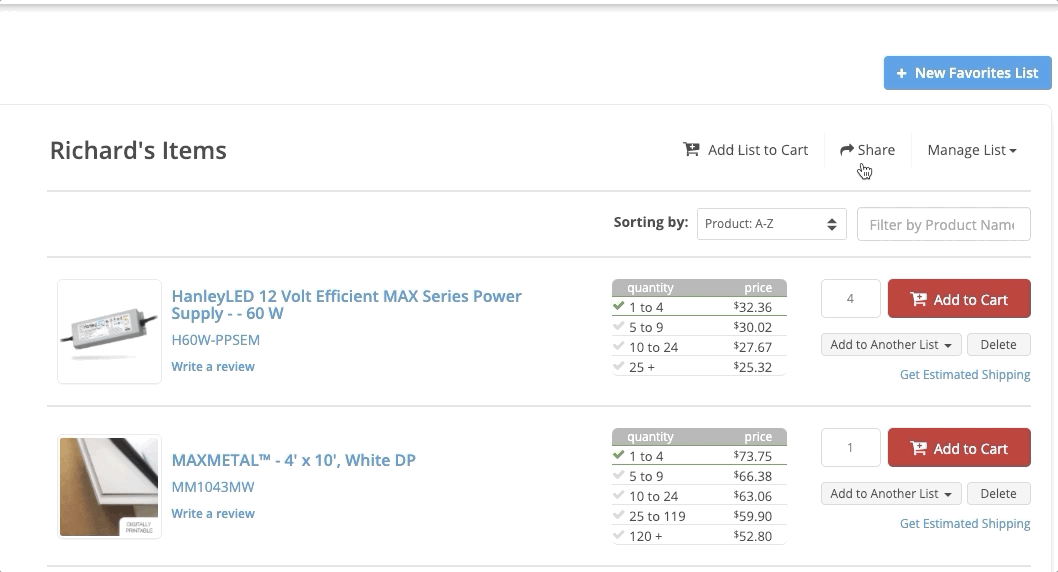 You can check out a full tutorial video here and remember, should you have any questions or need assistance, give us a call! (800)542-9941