Grimco.com Frequently Asked Questions (FAQs)
You can click here to Register for an online account or select Register New User on the homepage.
If you are a current customer, we'll ask you for only a couple pieces of information including your company name and zip code. If you know your account number, this is even more helpful.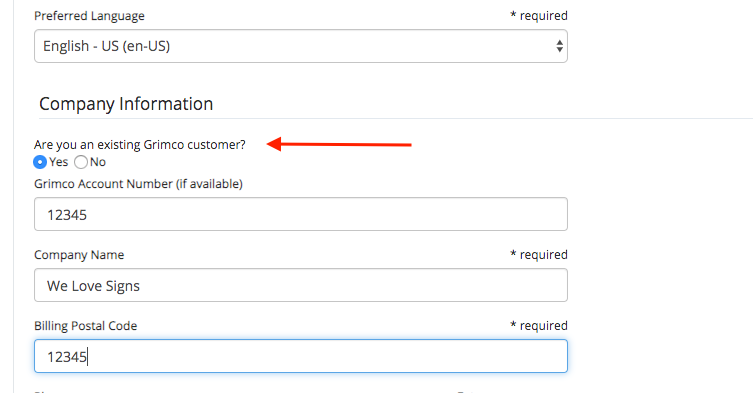 If you are a new customer to Grimco, we'll ask you for your basic contact & company information. If you have a company website or social page, feel free to include this link to help us get to know you better.
We will process your application within 24 business hours.
Once approved, you will receive a confirmation email and a link to create your password. You are now ready to sign in!
If we are unable to verify your business, you'll receive a follow up email asking for more information. Please know, since we are a wholesaler, we can only sell to those with sign-making equipment or capabilities.
No problem! Click here or select Forgot Password on the homepage. Enter in the email address that is associated with your login and within 10 minutes or so, you will receive a link to reset your password.
If you don't receive an email, you may need to enter a different email address. Please feel free to contact our support team at (800) 542-9941 Ext. 1875 and we will make sure you are taken care of!
Yes! Your company/business can have multiple logins as long as they are different email addresses.
You can apply for Grimco terms right on grimco.com. Once you sign in, you will be able to click on "Grimco Credit Application" towards the top of your screen. Or, you can click here and you'll be taken directly to the application form.

Qualifiers for Free Shipping
Any local delivery/UPS Ground order over $100 (when order is placed on Grimco.com)
Any local delivery/UPS Ground order over $150 (when order is

not

placed on Grimco.com)
Any order with over $3,000 of Grand Format shipments (excluding motor freight shipments)
Additional Information
All motor freight shipments will incur a minimum of $175 delivery charge

Updating a shipping method or selecting "Ship Now" will incur additional shipping charges.
Shipments to Hawaii & Alaska do not qualify for free shipping and will be subject to appropriate freight charges.
Please watch the below video tutorial! This goes over our order checkout process in 6 easy steps.
Order status and tracking information can be found here under Order History. You can reach this page by clicking on My Account and then selecting Order History.
From this page, you can view if an order has shipped or is still active. You can also view any UPS tracking information.

You can!
Once you sign in, click on My Account & then select Orders / Returns. From this next page, simply click "Return" on the order that contains the items you want to return.
Check out the below video for a quick tutorial!
You sure can!
As long as the items are available in your local branch, you can select Pick Up during the checkout process on the Shipments page. All you need to do is click on Change Shipping and Pick Up will display as an option.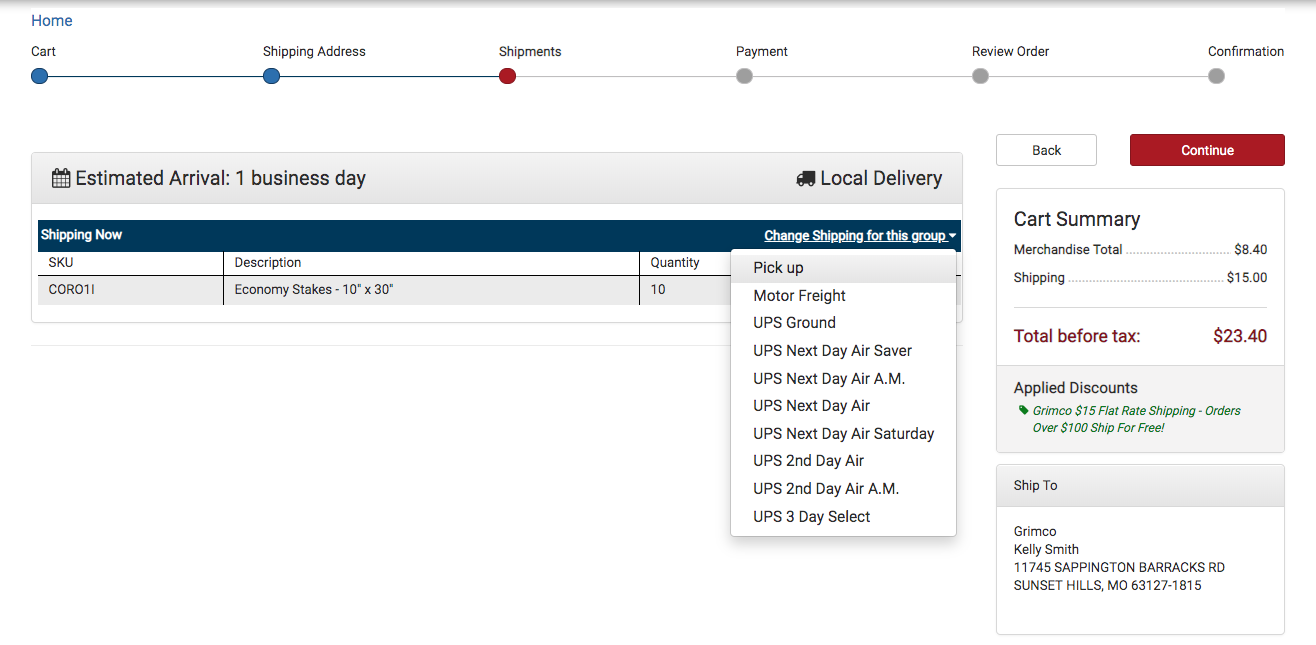 This can all be done on our Invoices, Credits, & Statements page which can be found here or once you click on My Account.
This video explains the Invoices, Credits, & Statements page and the information you can reference.
You sure can! Once you sign in, you can select Make a Payment and this will take you to the invoice payment process. All you'll need to do is select your invoices, choose your payment method, review, and submit.
Watch the below video for a quick tutorial!
Grimco uses SendGrid for transaction emails, such as invoices, credits, statements, order confirmations and ship notices. Sometimes our email clients can get a bit overzealous and mark those emails spam or junk. To stop this from happening, it is recommended you whitelist or add the below email addresses we use to your safe list:
billing@grimco.com for invoices, credits, and statements.
How to whitelist an email address?
Outlook:
Add recipients of my email messages to the Safe Senders List (microsoft.com)
Outlook Web App:
Block or allow (junk email settings) (microsoft.com)
Gmail:
Allowlists, denylists, and approved senders - Google Workspace Admin Help
If you are not using one of the 3 email clients above, a search on your email client to whitelist or safe list should bring quick results.
My Favorites is basically our version of a wishlist that allows you to add or save your favorite items all in one location for quick and easy access. You're able to view pricing, lead time estimates, and add items directly to your cart.
In 2020, we rolled out some exciting new features & enhancements to our My Favorites section that you can learn all about here in our GrimcoConnect blog post!
Click on My Account and then select Software Support. From this page, you will select your printer model and then a list of appropriate medias and their downloads will appear. We also show links to our vendor websites on this page.
If you can't find your printer or media, please submit a ticket to Grimco's Hardware/Software Tech Help.
Click on My Account and then select My Tax Certificates. From this page, it only takes a couple minutes to add and validate your document.
Please note: if you are uploading forms for FL, LA, MS, or NM, watch the second video because these forms must be manually approved.