Grimco's NEW Shipping Notification Emails & Orders Page
Grimco is excited to announce the arrival of Shipping Notifications and an all-new Orders Page! These initiatives offer new and improved functionality and more detailed order information. We found clients were craving order status, tracking information, and other order details at a level that Grimco.com was not offering, so we decided to make a few changes to right the ship. We've outlined the two projects below!
Shipping Notifications
What is it?
Customers can now start receiving emails on when their items have shipped! This includes ALL your Grimco orders, no matter if they were placed on Grimco.com or through one of our customer service representatives. This email will provide the most detailed information possible for your order, including tracking, delivery estimates and shipment status.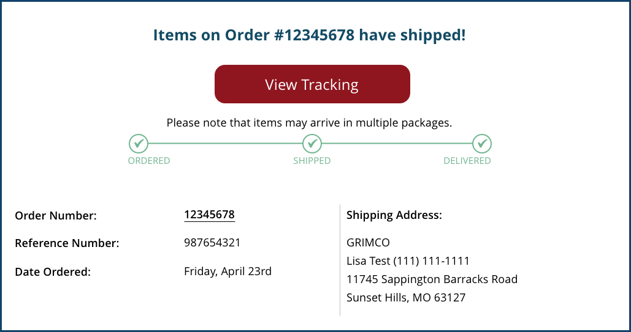 How does it work?
After an order is placed and processed, you will receive an email automatically when your items begin to ship. The most important tracking and order information will be visible right in the email, including:
Estimated Delivery Date
Tracking Numbers (if provided)
Shipping Method (ie Local Delivery, UPS Ground, etc)
Grimco SKU
Quantity Shipped

However, by clicking the direct link from the email, you can view a more detailed Order Summary without even having to sign into your Grimco.com account!
Why is it important?
We hope this eliminates any unknowns, questions, or confusion once an order is placed. We know the arrival of these items is crucial to our customers' business, so we wanted to find ways to keep them as up to date as possible once their items are ready to ship.
Differing from the current process, where you often need to call or email Grimco to find this information, the new shipping notification emails will be sent directly to you! This will provide you even more self-service by saving you time & giving you more order transparency.
Orders Page
What is it?
The brand-new Orders/Returns page offers easy access to high level order details without having to open each order individually. Order status, estimated delivery, returns, and PO/order numbers can be seen right away.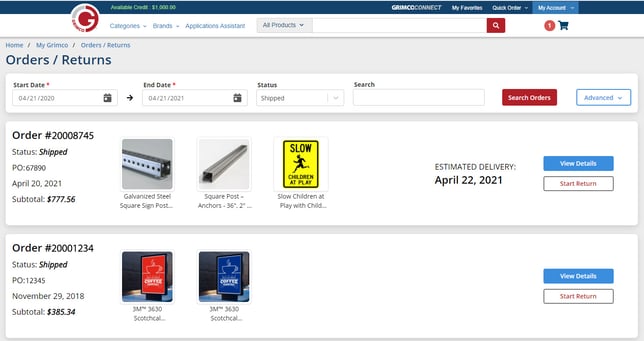 For more detailed information, an Order Summary provides payment information, more detailed shipment progress, tracking numbers, quick re-order, and print/download options.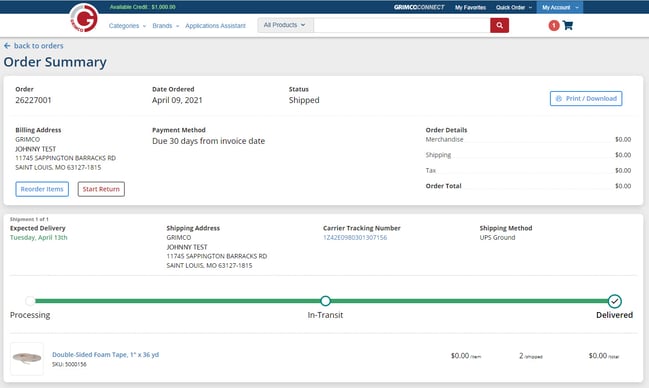 How does it work?
By logging into your Grimco.com account and navigating to the My Account dropdown, you can select Orders/Returns to view your order history, just like always! You can also see your individual order by following the link provided in the Shipping Notification email.
Some of the new features include:
Detailed Tracking: Grimco.com now shows you which items have shipped, which have not, tracking numbers for each shipment and a tracking progress visual wherever possible. We know the importance of detailed and accurate shipping information and are always trying to improve your experience!

Start a Return: We know things happen in transit, incorrect items are ordered, etc. While it was traditionally a pain, Grimco.com makes it super easy to start your return, place replacement orders, and get your business back up to speed without missing a beat. Check out a recent post for a more detailed rundown of the Returns process.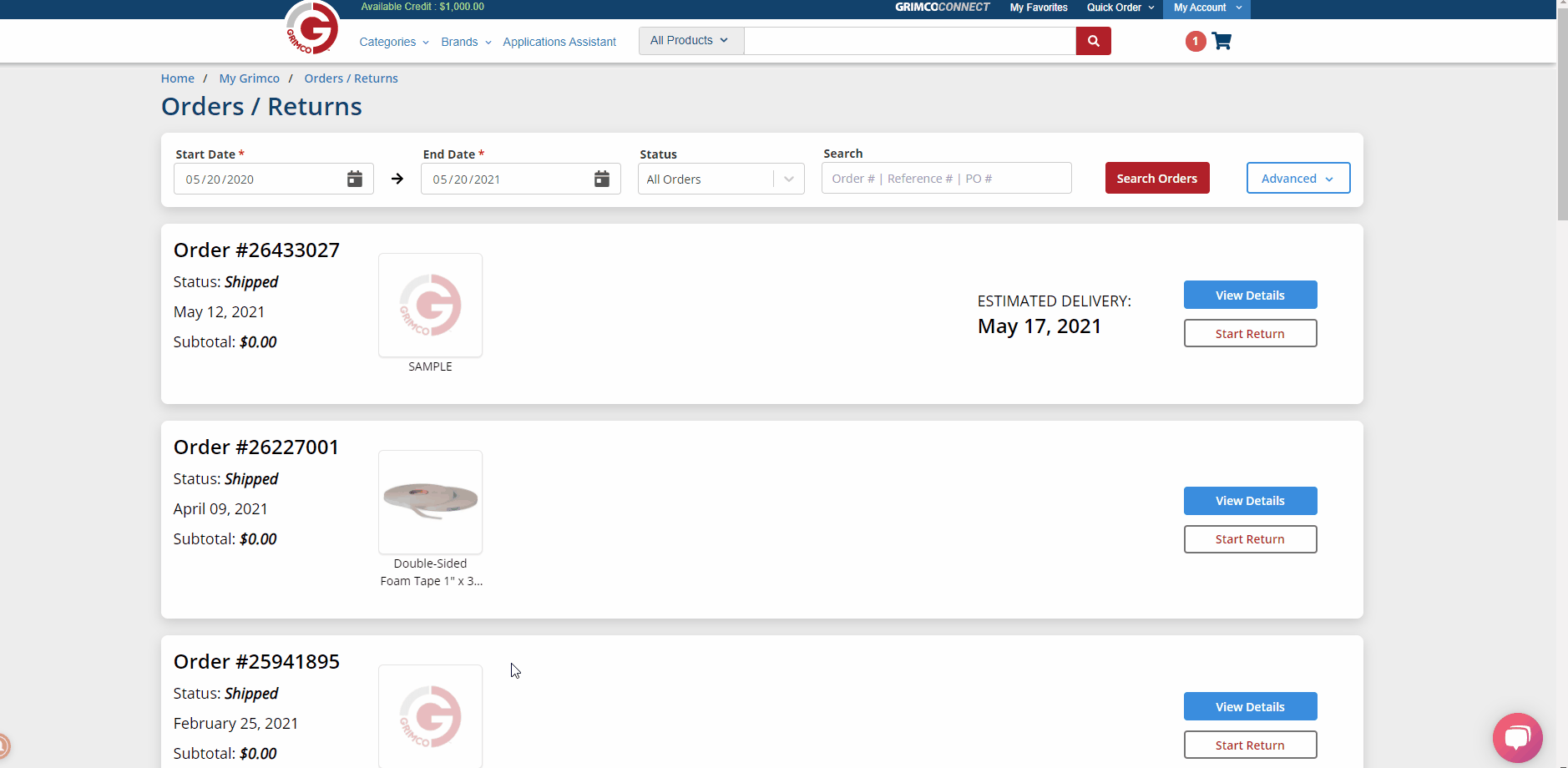 Advanced Search: You can now search and filter your orders by date range, PO #, order #, Grimco SKU, return authorization #, and order value. This will allow you to find orders quickly without endless scrolling or opening & closing individual orders.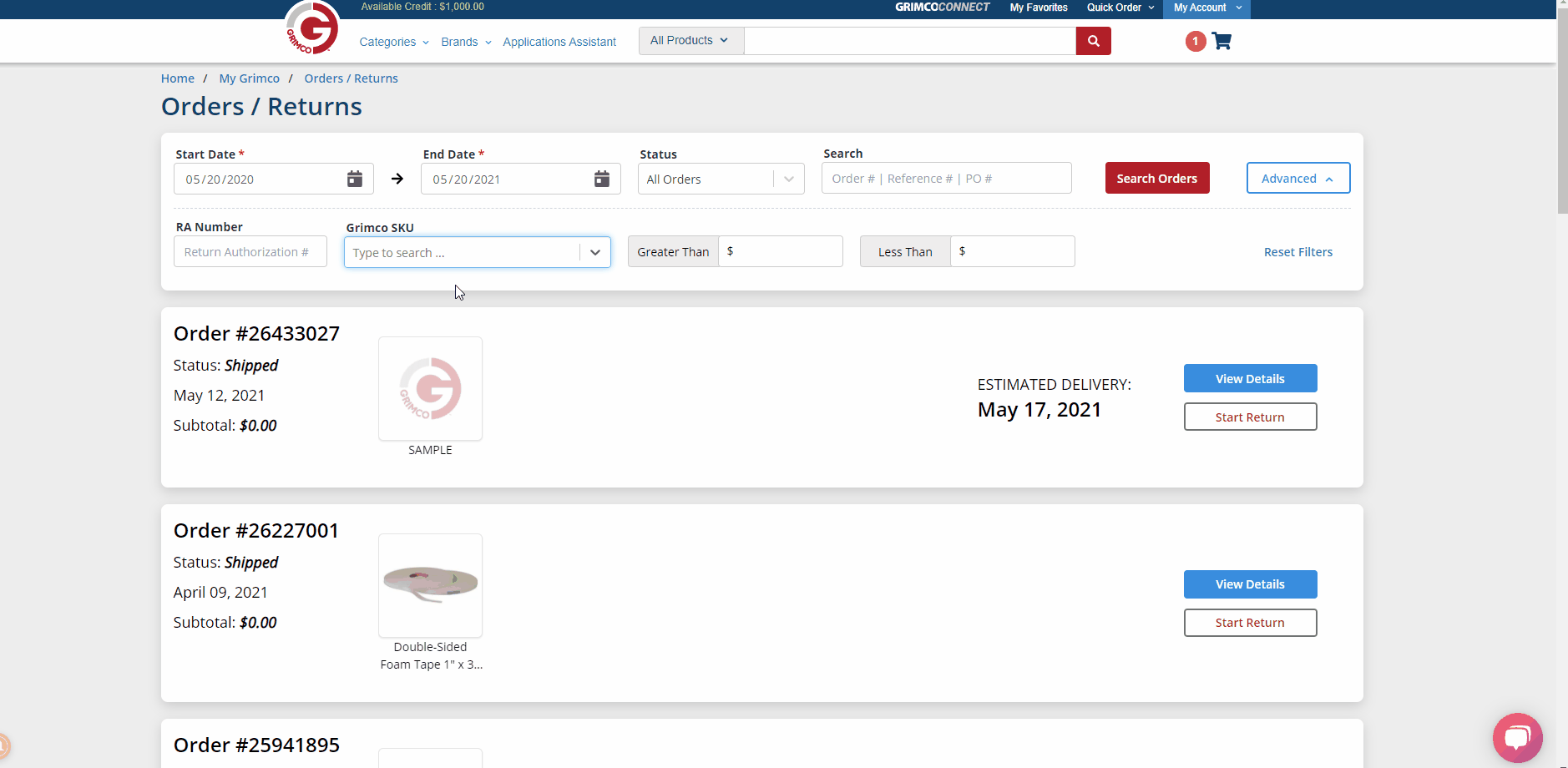 Quick Re-Order: Doing a similar job to one you did last month? Simply search for your order by PO, SKU, Order #, or date and use add all the items to your cart from there!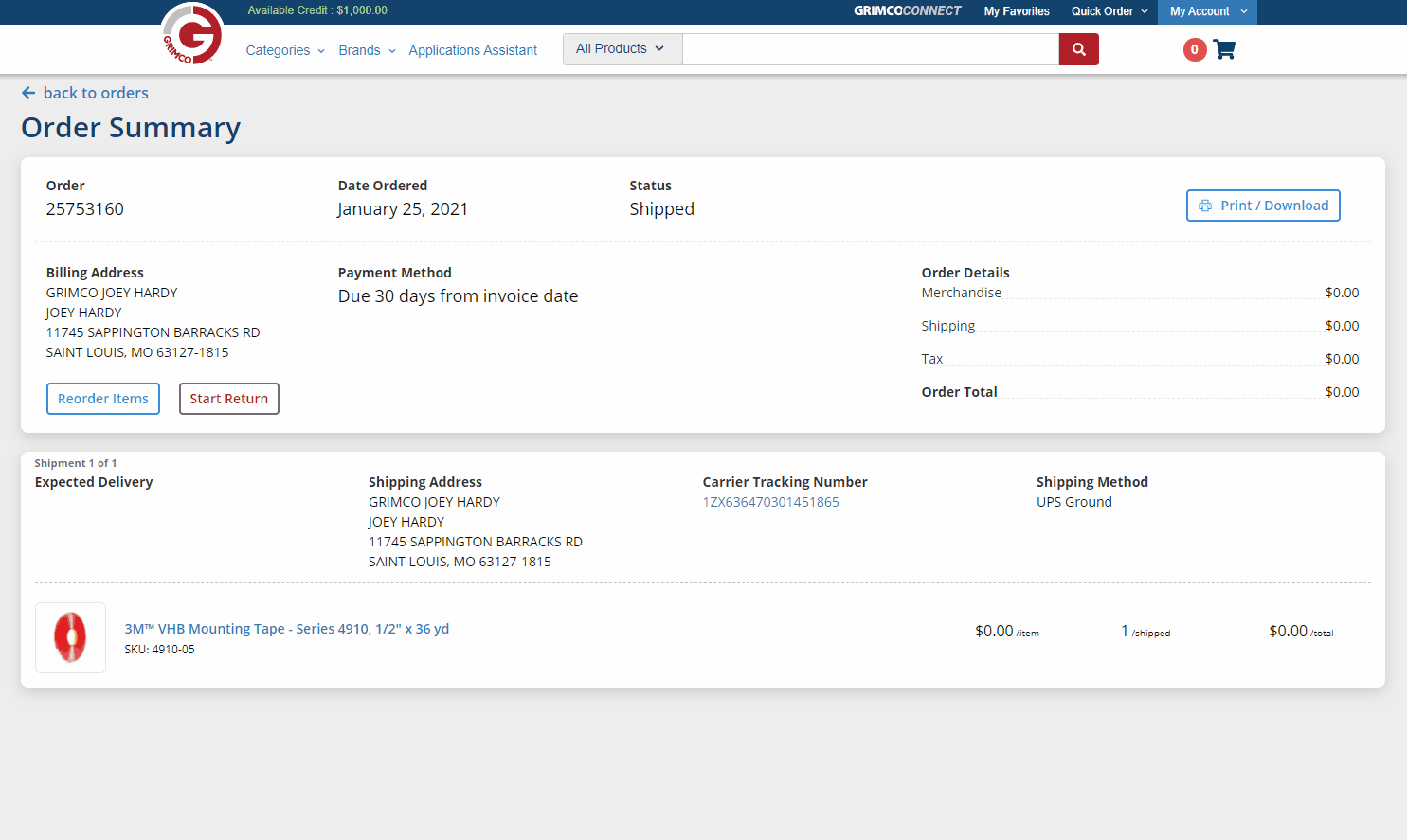 Why does it matter?
Previously, the Grimco.com Orders Page experience was much more primitive, only allowing a snapshot view of a PDF document and some other basic information. This orders page offers a much more interactive experience in a more user-friendly layout, and all the quick functionality you can handle!
As always, Grimco is constantly searching for ways to improve, keeping our industry partners at the forefront of our mind. Stay up to date on all the new Grimco.com features or go take a look at your brand new Orders Page with the links below!