A grimco.com feature that just received various improvements is our online returns process! We know how much of a hassle returning an item can be, so we took some extra steps to ensure it is as quick & easy as possible!
Replacement Items
The biggest change to our online returns process is that you can now select items that need to be replaced! So, not only can you start your return online, you can also complete your full shopping experience by purchasing those replacement items in a quick and easy fashion. You'll even be able to see the Estimated Arrival Date of your replacement items along the way! Here's how it works:
Step 1: Select your order from the Orders / Returns page & click "Return"
Step 2: Select the item & quantity that you wish to return
Step 3: Tell us why you're returning the item
Step 4: If you would like a replacement, select "Yes"

Step 5: Review your Return Summary

Step 6: Submit your Return & Replacement items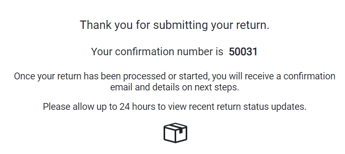 Follow Up Email Notifications
Once you submit your return, you will be given a confirmation number & email for your records. You'll also receive a return email notification once it's in process with directions & next steps on how to return your item. If your return included replacement items, you'll receive an replacement order confirmation email.
Check your Return Status
The following isn't a "new" feature but it's too great for us not to mention! Once you submit your return, you can easily check on its status on our Orders / Returns page. Look for the order number that contains your returned item & you'll be able to see the latest status such as Processing, Waiting on Additional Information, or Credit Issued. We even show the Return Authorization number associated with your request.

These enhancements are just a few of the great things we are working on to make your Grimco experience the best it can be. Be on the look out for more updates and releases on GrimcoConnect!