Eliminate Lighting Issues with Push-Thru Acrylic
Routed out aluminum backed with push-thru acrylic can make for a bold, sleek and sharp look, but getting the lighting right will be the key to turning a great design into a great looking sign. It's important to take a few things into consideration when tasked with illuminating these signs.
When you are lighting a sign with push-thru acrylic, consider these 4 challenges:
Light Transmittance

: typically Push-Thru applications require ½" – ¾" thick acrylic. A thicker acrylic reduces light transmittance when compared to standard 3/16" acrylic.

Competing Brightness:

A push-thru cabinet located above or near an EMC board or in a metropolitan area with dense light pollution will need to compete with the brightness of the surrounding area.

Loss of Light

: The addition of perforated vinyl can play an added role when calculating loss of light and is common in push-thru applications where the letters need to appear black during the day and illuminate white at night.

Sign depth

: Lighting a 4" deep double-sided wayfinding sign can double your LED costs if you use the wrong LED, forcing you to use too many LEDs and adding more power supplies to a sign that doesn't have any room for more!
These 4 factors can result in a dull, underwhelming sign when not properly populated, but here are a few tips to ensure brightness and quality.
Module Choice
Photo Credits: Designery and UFB Fabrication
Choosing the right LED module for your application will set you up for success. We recommend selecting a module with a high lumen output such as Stellar Edge Big, Wingspan, or PhoenixNRG Series III or IV depending on the overall parameters of your sign. The high lumen output will help you battle the 4 challenges listed above.
Module Spacing

Photo credits: Graphics 22 and UFB Fabrication
When illuminating ½" – ¾" acrylic, we recommend overpopulating behind the push-thru areas OR use a more powerful module to customize your brightness. Are you using perforated vinyl over your acrylic? Or is there a lot of ambient light competing with your sign? Sometimes you don't find out until the sign is installed on site that your lighting needs a boost. And sometimes your sign is too bright.
Using an LED module that allows you customize your brightness gives you the versatility to play around with your lighting in the shop or in the field. HanleyLED's Wingspan or Stellar series modules will be a game changer in these situations.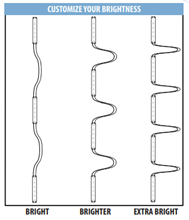 When in doubt get a layout! Our team is happy to provide custom layouts unique to your application to ensure brightness on every job. Create your layout with HanleyPRO today!
Want to learn more about push thru-acrylic applications? Check out this video.