G2G Lighting has a vast portfolio of lighting solutions that bring out the creative side in any project. Extensive programming options allow many of the products to be addressable based on the customer's need. Put a unique spin on some traditional looks while reducing cost and labor.
Marquee Bulbs
Marquee bulbs give you the ability to create very lively options when it comes to lighting. Each size can be customized through programming or set to a pre-set option.
The D50 line is a great solution for conventional bulbs. Easy installation saves time and labor while providing an elevated look to any sign. An RGB controller prevents you from having to run separate lines to achieve programmed applications, contributing to faster installation.
D50 Marquee Bulbs are also outdoor rated and can be rained on, with all wires concealed behind the substrate. The unique globe lamp resembles a round decorative light bulb, snapping directly on to the LED base. Each puck base houses fully encapsulated diodes and easily pops through the routed circles to meet the bulb from the front.
The D30 line has a similar look to a round decorative light bulb. All wires are still concealed behind the substrate as the globe mounts from behind into any 0.47" hole. These smaller bulbs offer a different type of look for more intricate lighting.
Wall Washers
Wall Washers provide an uplighting effect to any logo, monument sign or building. Depending on the size of your structure, G2G Series 1-8 Wall Washers can provide the right amount of accent lighting. Get creative with various color changing effects in DMX mode. Flashing, fading and more can set your customer's display apart from the rest.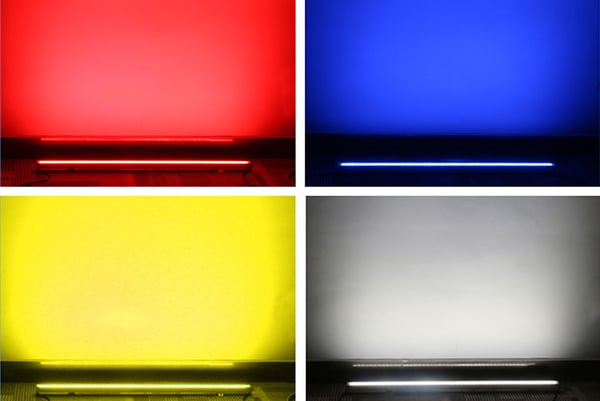 During our recent Exclusives Virtual Tradeshow, Doug Driscoll of G2G discussed the Series 5 Wall Washer more in depth. Here what he had to say!
Aurora Flex
G2G also offers a flexible LED solution that is a perfect alternative to neon. Find the same pop and glow as traditional neon with this line's three sizes: Aurora Flex, Mini Flex and Micro Flex. High quality components are encased in PVC to make them pliable for any type of application. The smaller the product the tighter the turn capabilities, however all options let you cut corners and create curves with ease. Read more about Aurora Flex here.
Working with the teams at Grimco and G2G, you will be able to personalize solutions for your customers. With the different lighting and control options, the sky is the limit. Add a true pop of color to your next sign by exploring all the G2G brand has to offer!