Sidewalk sign stands have long been used as a temporary, portable, or changeable sign display option by businesses both large and small. For a large retail store, they might display sale information. A restaurant might display the menu to foot traffic or customers waiting to be served. Valet and parking services often rely on portable signage for wayfinding and pricing details. These are just a few examples of sidewalk signage in action.
Most recently, to promote social distancing in response to COVID-19, businesses have turned to portable sign stands to provide details about curbside pickup, hours of operation, and many other in-store protocols. Since sidewalk signage is often easy to move and change, it helps business adapt to the ever-changing requirements to keep the doors open and, most importantly, customers safe.
Types of Sidewalk Sign Stands
There are many different types of sidewalk sign stands, each of which provides slightly different display options. While some can be used for a variety of different applications, a rundown of the most popular types might be helpful in choosing the best material for outdoor signs and sidewalk stands.
A-Frame Signs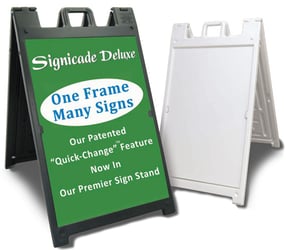 For a portable, foldable sign, many people turn to A-Frame style stands. They are easy to move and store, and often hold outdoor sign materials that are easy to swap in and out. Restaurants, retailers, hotels, tradeshows, and other events are common locations to find this stand style.
There are two main types of A-Frame sign stands – metal & plastic.
Plastic A-Frames: The most common portable signage options out there! These frames, often referred to as Signicades, are lightweight and even have molded handle for ease of transport. Typically, these stands are extremely versatile and can display metal, corrugated, or vinyl signage material. Depending on the models, the type of substrate and mounting method can vary. Most models can be internally weighted with sand for extra outdoor stability.
Metal A-Frames: the classic option designed to be used with rigid substrates. These folding metal frames feature either a bolt-in or slide-in mounting method, which is useful in mounting rigid substrates like corrugated plastic, .040 aluminum, or MAXMETAL™. They are the more economical solution yet still highly effective.
Wind Signs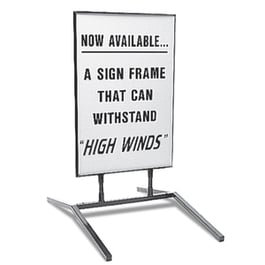 Designed to be used outdoors in windy areas, wind signs use spring coils to give with the wind. They also feature either a sand-weighted base or a metal, wide leg base. Wind sign stands allow the graphic to be displayed upright, in comparison to a pitched A-frame style sign stand. Wind signs make replacing outdoor signage easy by using a snap frame, quick change tabs, or slide-in mounting method to attach rigid substrates.
Outdoor Letter Board Signs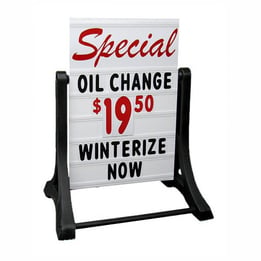 Simple and straightforward, changeable letterboard signs are the gold standard for quick, frequently changed signage. Slide numbers and letters in to create a message and slide them out to change. The sign board and base are plastic and feature cross bars and no-slip feet for stability. They might not be as graphically oriented as some others, but there is something nostalgic and cool about seeing a "special" sign on an outdoor letterboard sign, right?
Tip and Roll Signs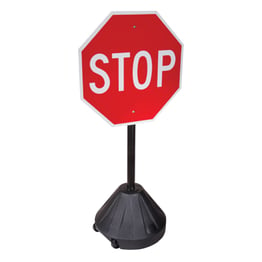 Tip N Roll sign bases are excellent stand options for mounting rigid signs with centered hole placement, especially traffic, parking, and other regulatory signage. The bases are filled with water or sand to be extra sturdy, standing up to 30+ mph winds in some cases. The assembled base and pole can be tipped and rolled (hence the name!) on the built-in wheels.
No matter which style of sidewalk or portable signage works best for you, Grimco is proud to offer a wide selection of industry-preferred options like: