Banners are one of the most versatile substrates and are used for countless application types. Whether used as retractable banners you see at a tradeshow, pole-mounted banners that line the streets, or exterior building signage that displays a company's logo, they require special banner hanging supplies and mounting materials for proper preparation and installation.
Mounting Hardware & Supplies
Before discussing the different types of banner mounting, it is important to understand the most frequently used banner mounting hardware. The following materials are used to strengthen banner material, make installation easier and more efficient, or provide a one-stop solution for an entire banner mounting job.
Grommets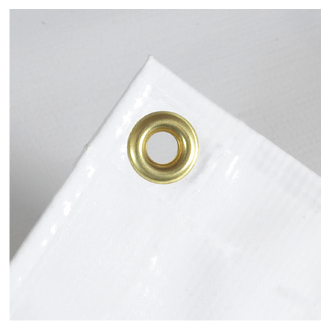 Grommets are the most traditional method for hanging banner material. Grommets are metal rings that are punched through substrates with a specially designed grommet machine. These rings are then used to suspend the banner via rope, wire or hooks depending on the location.
Typically, metal grommets are installed through banner material that has been hemmed or taped for added strength.
Adhesive Banner Tabs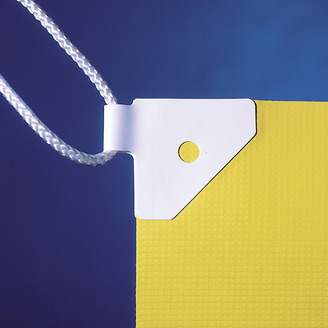 Adhesive banner or grommet tabs are designed to be easier to use and more durable than traditional metal grommets. Banner tabs have a strong adhesive that sticks to a banner's edges or corners, offering reinforcement and a built-in loop to hang the banner. These banner adhesive grommets work by better distributing wind force, preventing tear-through that can be common with metal grommets in windy applications. Because of their durability and ease-of-use, tabs are a popular interior and exterior banner hanging system.
The most common adhesive banner grommets are made by Banner Ups, and are preferred for many different applications throughout the industry.
Banner Tape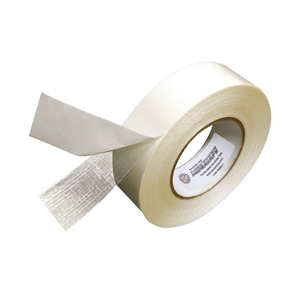 Knowing how to use Banner Tape is one of the most helpful skills in mounting banners. Instead of folding and sewing, many people choose a double-sided banner tape to accomplish the same goal. By folding the banner over on the double-sided adhesive, a banner's edges are reinforced and can be grommeted and hung with more durability. A single sided tape allows a banner to be hung without the fold. Single-sided tape simply applies to the banner edge to provide a sturdy extra layer through which the banner can be grommeted or tabbed.
Mounting Kits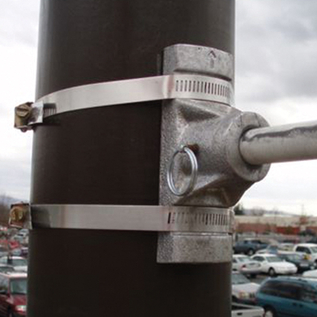 Pole banner mounting hardware is designed to make the installation of pole banners much easier. Metal base brackets attach to a pole with stainless steel straps and hold two fiberglass rods on which the banner is attached. Banners can be hemmed or taped the create a pole pocket and grommeted to the bracket for extra security. Designed to withstand high winds, these kits are a commonly used with double-sided graphics on durable substrates, and are a very popular outdoor banner hanging system.
For hanging banners on a wall, a similar wall mount kit can be used to fasten a banner to a flat wall surface. The brackets for these kits do require holes to be made in the wall or substrate.
Trapeze Bars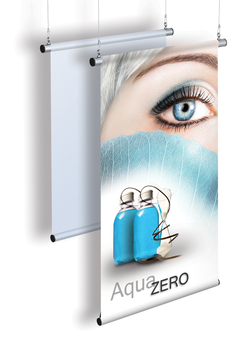 Trapeze bars are a great interior hanging banner display system that suspends banners from the ceiling. Featuring two crossbars, the banner material is hemmed on the top or bottom to form a pole pocket and suspended via the included metal eyebolts on the top bar.
Banner Stands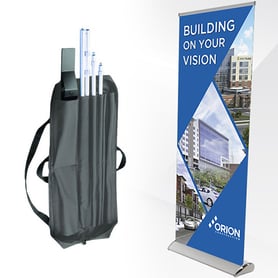 Banner stands provide a standalone, often portable or temporary solution for banner display. Sometimes, they can even be transported in a carry case! Most commonly, banner stands are used for interior displays like tradeshows.
Retractable Banner Stands roll up and can be transported very easily. Some stands can be used with double-sided graphics while others are designed for single-sided applications. Further, some feature the ability to remove and replace graphics, where others are for single-use displays.
Step-and-Repeat systems are used with grand format banners and often provide a great temporary background or wall-type display.
Mounting Accessories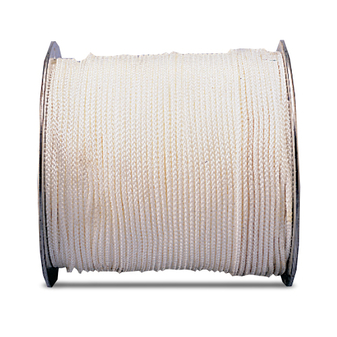 In addition to banner preparation, several other accessories could be used to complete a banner display.
Nylon rope is most used to tie banners down through their grommets.
Snap Hooks are a carabiner-style hook that can easily fasten to grommets for quick installation and removal.
Suction Cup Hooks are a unique solution that allows substrates to stick to windows in more temporary applications
Grimco offers a wide variety of digital banner material as well as all the necessary banner mounting hardware to make sure your graphic is primed to perform in any display setting.


Back to All Articles Shop Banner Mounting Hardware & Supplies