The New and Improved ION PVC
Grimco has improved its ION PVC line! While our product offering will remain the same, the quality of our product has dramatically improved.
Ion PVC will produce the same or better results than premium brands in the industry, at a very competitive price! This PVC offers best in class results no matter what the application.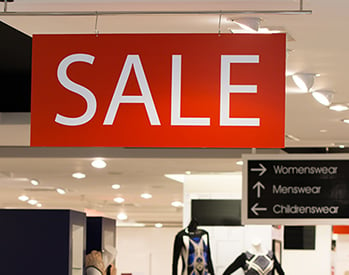 Features and Benefits
Color management professionals desire a 90+ white point and consistent white base color. This is critical for larger retail clients, trade show management companies, or any customer with multiple locations that require color consistency throughout their display programs. Good news- ION PVC has the brightest white point in the Industry!
ION PVC is made in the USA and manufactured to some of most sensitive specifications required in the industry. These PVC products are equal in durability, strength and performance to all premium branded PVC's in the marketplace, giving you pristine results in any application.
Surface smoothness issues and voids in the sheet construction are no longer a worry. This high-density PVC works for multiple applications such as printing, bending, drilling, mounting and die cutting (digital and traditional).
Why Grimco
Industry Experts
Grimco offers a team of industry experts who can quickly respond to your PVC inquiries any day of the week. This board specialist group can provide information on product specifications, technical support and/or assist with any PVC quoting.
Availability
When it comes to PVC, you have many choices. Whether it be the decision of supplier or brand itself, we hope you consider Grimco in the process. With unmatched service and a product that is sure to stand above the rest, Grimco's ION PVC is the perfect choice for your next project.
White 3mm, 6mm and 12mm
Standard size 48" x 96"
Next day delivery to all major markets