The Epson S80600 offers more differentiation from the competition. When you add the ability to switch between White and Metallic Silver inks, you find that you're only restricted by your imagination, not by your printer!
With this piece of equipment in your shop, producing the finest print quality in the industry becomes a reality. Enhanced technology, advanced printheads and ink selection set this printer apart from the rest.
Ink
Epson UltraChrome GS3 inks bring signs to life with the S80600. Achieve photographic quality output with special touches offered by new red, white or metallic silver ink options.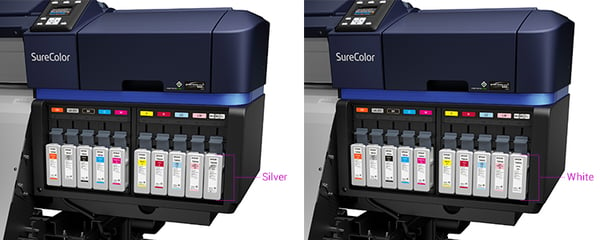 White ink is a great tool to use not only because it allows you to print white images and text on colored and clear material, but also because using an underlay of white can make colorful prints really jump out on colored and clear materials. High-opacity UltraChrome GS3 White ink on the S80600 allows for faster production print speeds as well — up to 135 sq ft/hr!
Tip: Although the quality and ink selection for the S80600 is unmatched, it's important to know that the pigment in the white and silver ink cartridges settles quicker than those of other colors. To maintain this, remove and shake ink cartridges daily.
Thanks to the extended ink offerings, there are more opportunities to create something unique for your customer. Applications with white and metallic inks can include: second surface mounted window graphics, metallic decals and stickers, vibrant images printed over colored medias and backgrounds, backlit graphics printed on clear medias, and many more.
Check out Epson's guide for more information!
Software
It's also important to know how you can set up your files for printing with specialty inks. Below are some tutorials on how to do this in Onyx.
Contact our Grimco team of experts!