Briteline HTV meets the LBC
Briteline G-Flex Heat Transfer Vinyl was engineered so you can produce graphics for sports, leisure, fashion, anything you can think of - with confidence and consistency. This product is extremely easy to use, durable, and comes in any vibrant color you can think of. Just a heads up - you will need Briteline HTV come January 2020 for the ISS Long Beach Expo! Why is that? Because "It's goin' down in the LBC!"

*Just an FYI - if you want to win a FREE heat press, this LBC contest is for you!*

Impressions Expo – Long Beach, CA
Briteline HTV is heading back to Long Beach, CA to make waves at the Impressions Expo in 2020.The 2020 Impressions Expo (formerly known as the Imprinted Sportswear Show) will be held on January 17-19 at the Long Beach Convention Center. This year our Briteline fans can join in on the fun in a BIG way! Immediately you should be thinking about those low riders, that surfer style and urban palm trees. We want YOU to be a part of our ISS booth by highlighting your custom designed garment using Briteline HTV. We are giving away a Digital Knight DK20 Heat Press AND a feature at the ISS Long Beach Expo to the most creative submission!
Have fun with it and push the limits of Briteline HTV!

Come one, come all!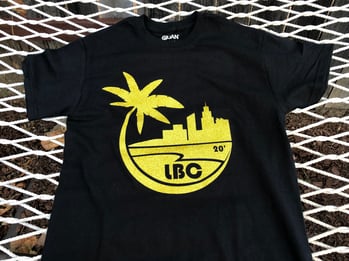 Once you think of your LBC garment idea, create your template utilizing your Briteline HTV durable color or digital vinyl, easily weed-out your design, and make it happen! All submissions will be entered into a drawing where (3) submissions will be picked at random and voted on by our Facebook community. The garment with the most votes will not only win the DK20 Heat Press, but their garment and company information will be on display in our booth at the Impressions Expo 2020!
Submit a high resolution photo of a custom designed

garment

in line with this year's theme, "It's Going Down In the LBC" (Long Beach, California) using Briteline HTV!
Submissions will run November 25th - January 2nd. Get those in by completing this FORM.
The final (3) contenders will be chosen at random Friday, January 3rd and Facebook voting will go live at 2:00 PM CT. Voting will run through Monday, January 6th at 12:00am.
Formal winner announcement will be on Tuesday, January 7th!
***All Briteline HTV products can be used in your design submission and proof of purchase is necessary.

LBC Bound
Now you know how you can be a part of the upcoming ISS Expo in LBC, so get going on your garment designs using the one and only Briteline HTV!
Get down with Briteline HTV and win yourself a brand-new heat press and get your company and design featured. Who knows, Snoop Dogg may be there!
◀ Back to All Articles Talk to a Briteline HTV Expert Shop Now ▶