Briteline HTV for all your Holiday needs!
Briteline Heat Transfer Vinyl can be used for any apparel and garment needs you have - whether that be for creating a gift or your next holiday party! Briteline HTV has an array of colors and specialty vinyls that will be your key ingredient when creating show-stopping holiday garments. Courtney Lee used the Briteline Ultra Glitter and Briteline TURBO to create a few Halloween shirts for her nieces'. Check out how she prepared for this year's Halloween fun!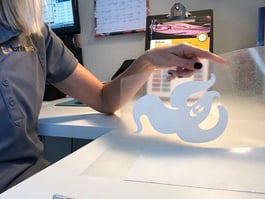 Courtney began her quick and easy garment creation by designing and plotting her spooky graphics! After plotting, she started the weeding process which happens to be her favorite. I have a feeling it has to do with the easy weeding and application components all Briteline heat transfer vinyls have! Not to mention, all the Briteline lines have a special PET liner to make that initial application fast and simple.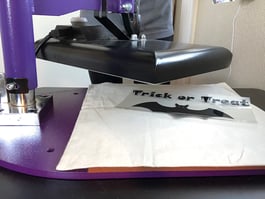 In order to finalize the Halloween designs, Courtney needs to get
those images
pressed.
Briteline TURBO is perfect for the job with an installation that only takes seconds! Not to mention, Ultra Glitter always adds a fun element to jazz things up. For the 'Trick or Treat' bat image,
Courtney
pressed the G-Flex TURBO for 3 seconds at 320 degrees Fahrenheit under medium pressure and peeled hot. (You can peel this product hot, warm, or cold.) While the Ultra Glitter ghosts were pressed for 15 seconds
at 320 degrees Fahrenheit under medium pressure and peeled warm.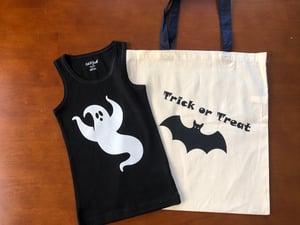 The process of using Briteline HTV is user friendly, quick to throw together, and creates amazing results! Whether you are in charge of designing this year's ugly Christmas Sweater attire, or want to plan for next year's holiday schedule - Briteline HTV has exactly what you need! Courtney was able to whip together some last minute Halloween tanks and candy bags with these simple steps to make sure her nieces' had a blast! All thanks to Briteline Ultra Glitter and Briteline TURBO, the candy haul brought home was more than anticipated!