Which Ink Is Right For Me?
A very common question Grimco Support receives when customers are considering a new printer, is "Which ink is right for my business?!" Great question seeing as there are so many options - but we've got your back! This overview should help you breakdown the differences (and similarities) between available inks, and start you down the right path when considering a new printer.
If you ever need further assistance, we're here for you when you need us! Take advantage of our live chat option, submitting a tech request, or giving us a call.
Outdoor Applications
Eco-Solvent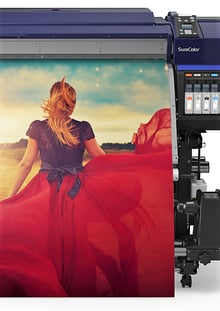 For outdoor ready (or indoor) printing, roll to roll, Eco-Solvent is still the most widely used ink in the industry. Evolved from Solvent inks, Eco-Solvent inks are much less harsh and thus don't typically require the ventilation that their predecessors did. They also put less stress on the printer itself, making for less maintenance. When used with lamination, this ink can produce long term outdoor graphics that last seven years or more! Eco-Solvent printers, like the Epson S Series and Mimaki JV Series, offer multiple color setup options with a well-tested, reliable ink technology on materials ranging from vinyl, banner, paper, fabric and more. These inks produce great image quality in a wide color gamut.


Latex/Resin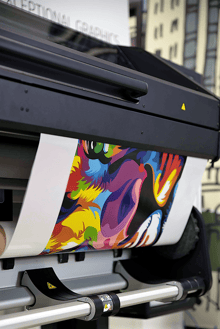 Similarly to Eco-Solvent printing applications, Latex and Resin inks are used in outdoor and indoor printing. These inks have instant dry as a standard and require no outgassing to cure. The HP Latex and Epson Resin printers offer a very durable ink that cures with heat and a bonding agent. Vinyl, banner, and fabric are common applications, but at a more sustainable level for the environment. User changeable printheads are available for all Grimco printers that utilize Latex/Resin inks.


UV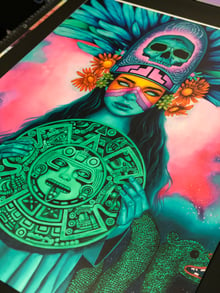 Another wide format ink common in outdoor (and indoor) printing, UV ink is a well known commodity in the industry. Used in flat direct-to-substrate printing, like the Epson V7000 or the Mimaki UJF, this ink can be directly applied and cured via UV light. It can also be found in the Mimaki UJV printers on the roll to roll side, allowing another technology for instant dry inks.


Indoor Applications
Aqueous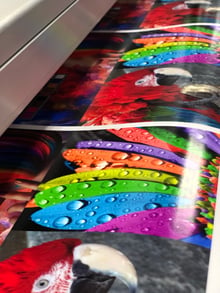 Aqueous inks produce vibrant, rich color prints. Dye-based are used for indoor only applications, while pigment-based are used for short-term outdoor applications. These printers are offered in smaller sized machines and cover applications from photos to technical drawings for indoor use. Grimco offers Epson, HP and Canon printers in the 17" to 44" widths to help customers who are looking for quality indoor wide format printing.
Check out Grimco's full offering of Inks and Supplies for more information. You can submit a request ticket, view monthly specials, download printer profiles, and more can be found on our Hardware & Software page!
Don't forget to view all new and previous videos on our YouTube page!
Great content is available when you need it.