Indoor Floor Films 101: A Buying Guide
Whether at the grocery store, a high school hallway, a warehouse, or your favorite fast-casual restaurant, you have undoubtedly seen indoor floor films in use. They tell you where to stand in social distancing situations, which direction to go in a store or airport, and can serve as awesome branding and advertising material for businesses. But what exactly are floor films, and which ones are the right choice for your floor graphic application?
What are Floor Films?
Indoor floor films are adhesive-backed, printable graphic films designed to be applied to flat interior floor and ground surfaces. Typically, floor films are used as relatively short-term graphics that can be removed without damaging the floor surface. These characteristics make floor films perfect for wayfinding signs, tradeshow displays, decals, POP displays, and most recently, social distancing floor graphics.
Overlaminate or No Overlaminate?
One of the biggest factors to consider when shopping for a floor film
is whether it will require a protective overlaminate film. Overprotect the graphic quality and lengthen durability, but they can also provide slip-resistant properties. A UL-410 slip resistance ,certification verifies that the film's surface friction has been tested and proven safe for foot traffic. Many indoor floor films fall within this category and are sometimes referred to as having a "two-step" process, as the graphic must be laminated prior to installation.
An overlaminate is not the only way to achieve the UL-410 mark, though. Some films, like Briteline MultiGRIP, have built in textures that give the graphic slip-resistant properties. These films are sometimes referred to as having a "one-step" process and do not require the additional process of adding an overlaminate.
Floor films are most commonly found with matte finish. However, some overlaminates can provide a gloss, luster or matte finish. Matte and luster finishes have a flatter, more satin sheen, whereas gloss gives the graphic a shiny, wet-paint look.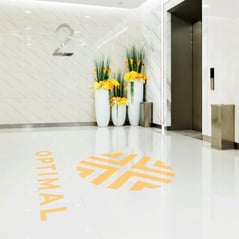 Selecting the right film for the application surface is crucial to a successful installation of a floor graphic. Luckily, there are floor films that are designed for just about every surface type, and many are versatile enough to adhere to several types of floor. On Grimco.com, floor film product pages will list the appropriate application surfaces to help make the decision process easier.
Smooth Interior Floors: Typically, a thinner, more flexible floor film paired with a UL certified overlaminate is the correct choice for surfaces like tile, laminate, and some smooth concretes.

Rough or Textured Interior Floors: For surfaces such as concrete, properly painted surfaces, wood, brick, or ceramic, a thicker or more reinforced substrate is recommended.

Carpeted Floors: Carpeted floor films have an adhesive that is designed to be tacky enough to grab carpet fibers but will still remove cleanly within the designated lifespan.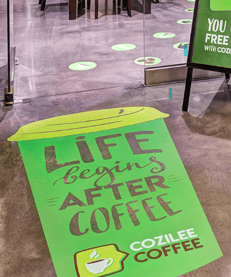 Most indoor floor films are digitally printable, allowing them to display detailed graphics with vibrant color. Graphics can be cut using a plotter or print & cut printing solution and weeded prior to installation. It is always best to check the specifications of each film and perform a small print test prior to starting the job, but most films are compatible with at least one or two of the following print methods:
Solvent
Eco-Solvent
UV Curable
Latex
Screenprint
Floor film installation is a fairly straight-forward process. Of course, you will want to make sure the application surface is clean and prepped for adhesion. It is important to check any information included with each film to ensure the proper procedure is followed.
After surface prep, installation typically involves orienting the graphic and applying from the center out, removing the liner as needed. A squeegee or rubber roller will activate the pressure-sensitive adhesive, securing the bond to the floor surface.
For removal, noting the film's removability is an important piece of information. In some cases, the graphic may outlast the removability timeline, but the adhesive will form a more permanent bond with the surface. This can result in residual adhesive or even damage to the floor during removal. To remove floor graphics, a straight edge or other surface-safe removal tool can be used to peel up an edge or corner. From there, the film can usually be pulled right up.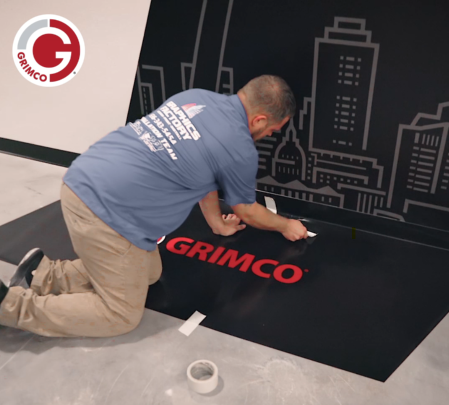 Grimco is happy to offer floor films from industry-preferred brands like: