How to Speed Up Your Electrical Installs
Want to increase your monthly sales? Well, the answer is simple...speed up your production process!
For electrical sign manufacturers, the production process is intricate. From forming the frame, painting, cutting the face, installing LEDs, installing Power Supplies, wiring...the list goes on. However, improving just one step in your production process can increase efficiency and ultimately increase your monthly sales! Here's how it works:

Many adjustments can improve the sign making production process, which makes choosing where to begin slightly difficult. To make it easy, start with the simplest and least costly improvements first. To make it EVEN EASIER, we recommend starting with the power supply installation process. Here's why.
Improving the Power Supply Installation Process
One simple improvement to tackle first is your power supply installation process. Many times, sign manufacturers purchase power supplies and power supply boxes separately and build them in the production, installation, or service call process. Purchasing two separate materials costs more money and labor time to put them together. Luckily, HanleyLED has a solution to make that step much easier: the HanleyLED Premium Power Supplies - SpeedBox.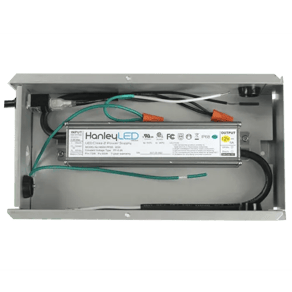 The HanleyLED SpeedBox
The HanleyLED SpeedBox has quickly become a sign manufacturers favorite HanleyLED Premium Power Supplies. Designed to help cut install time, save money, and make job completion more efficient. It is a pre-assembled, pre-wired, and ready to install power supply box.
Speed
The HanleyLED SpeedBox decreases labor time and allows production teams to finish jobs quicker. By speeding up the production process, sign manufacturers can increase production capacity and meet customer demand. Whether it be during production, installation, or service calls, your installers will appreciate how fast they are able to install the HanleyLED SpeedBox.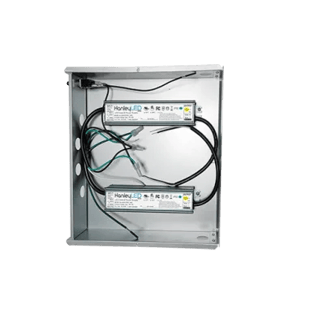 Each box is built with precut holes and UL caps for unused holes. A pre-installed toggle switch gives you the flexibility needed for different job requirements. Mount the speed box horizontally or vertically depending on what fits your customer's layout.
Quality
The HanleyLED Speedbox offers high efficiency without asking you to sacrifice quality. Each speed box is UL classified for dry, damp, and wet locations.
Savings
By removing the need to order two separate supplies and assemble the power supply box in house, it gives sign manufacturers the gift of speed in an industry where time equals money.
---
Learn how the HanleyLED Speed Box has helped other sign manufacturers improve their production process!
"Our company switched over to the Speed Box recently, after costing the Speed Box against the time and material costs of what we build in house, we feel that it was a good decision. It streamlined production by allowing the assemblers to focus on the customized aspects of each build. Not to mention it is a standardized UL listed item that can be mounted horizontally or vertically. The low-profile box and mounting versatility are a definite plus during installation. A great product to have on hand when your busy with large rebranding projects."
- Omaha Neon, Grimco Customer
"I love the size of your 150watt Speed Box. Our winter season is busy with new installations and service calls. With the open space in the 150watt box, our guys have plenty of space to get the wiring done quickly. And when it's 20°F and the wind is blowing 15mph, my guys really appreciate how fast these are to install."
-Grimco Customer
"The savings I get from using one of your Speed Boxes goes far beyond the cost of product. It not only saves me on time and labor, it allows my installers to use that saved time on more important revenue-generating tasks!"
-Grimco Customer
---
🔎 Key Takeaways
Increase monthly sales by improving power supply installation process
HanleyLED Speedbox saves money buy reducing material costs
HanleyLED Speedbox helps increase production capacity so you can meet customer demand and take on more jobs.
HanleyLED SpeedBox helps sign manufacturers provide quicker lead times for customers.
An increase in completed jobs each month leads to an increase in monthly sales and happy customers!
---
HanleyLED Speed Boxes are available in 3 different options:

Improve your power supply installation process and purchase a HanleyLED SpeedBox today!