Out with the Old.. In With New Briteline Products!
Spring is a time of rebirth, renewal, and regrowth…so how does this season of change relate to the sign supply industry? Briteline is celebrating the shifting season with a fresh, new look, and the addition of a few new, diverse products in our offering!
Who is Briteline?
Backed exclusively by Grimco for over 20 years, Briteline offers a robust line of innovative products developed with sign businesses in mind. Each film added to the Briteline portfolio has been handpicked and put through multiple rounds of testing and qualifying to ensure the customer is receiving the best film in its class. Most of our films are made to our specifications. We've adjusted things like the weight of the liner, the type of adhesive on the film, and the white point to exceed our customers' expectations. We control the details of the material, so our partners don't have to worry about the quality they are consistently receiving.

Briteline Low Tack Removable Clear Film
Offered in 3 mil and 6 mil thicknesses, this clear, gloss vinyl has a low-tack, removable, pressure sensitive adhesive. The removable adhesive allows the user to easily reposition their graphic, without running the risk of stretching the film and ruining the graphic in the process. A permanent adhesive is very difficult to peel up to reposition, causing the vinyl to stretch if you aren't careful.
If you're needing more longevity from a static cling or more flexibility from a permanent clear film, this new Briteline removable clear vinyl film is a perfect solution. Plus, you can do a nice second-surface print to showcase a print on the inside of the window and advertisement on the outside.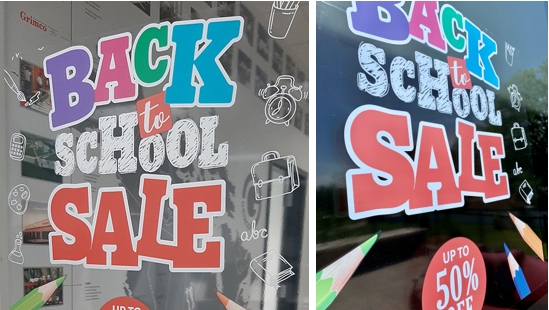 IM3224 pictured inside Grimco's Chicago Demo Center (left) and outside Grimco's Corporate Headquarters (right)
The 90# liner offers excellent product layflat in a variety of ambient conditions. The film is receptive to solvent-based, eco-solvent, latex and UV curable inks common to wide format digital printing systems. If you're experimenting with the HP800, note that this film is incredibly receptive to white ink.
Briteline Artistic Canvas
This artistic canvas is 15 mil thick, acid-free, and polyester and cotton blended. This material is ideal for producing gallery wraps and POP displays. It can also be stretched over traditional bars to create fine art and photographic reproductions, or décor artwork. The canvas has an excellent white point, absorbing ink well and showing vibrant colors and even skin tones perfectly - which makes it a great material for photo reproduction.

The canvas is produced using a 1 over 1 weave and features an inkjet receptive coating that's compatible with latex, eco-solvent, solvent, and UV curable inkjet ink. This canvas material is made in the USA.
Briteline Holographic Rainbow Film
The part number for this film is BL-WOW for a reason. This Briteline Holographic Rainbow Film lives up to its namesake. It's 6mil with a1mil adhesive laminated to a 90 lb. layflat liner, making it very dimensionally stable when printing with solvent, latex, UV or screen printers.
The permanent acrylic adhesive is clear, making it possible to construct a double-sided holographic window decal or sticker. You can achieve this by pairing the holographic film with a mirror image print on a transparent film, like the IM3205R-54 mentioned above!
Backed by a team of Briteline experts
As you get familiar with these new products, don't hesitate to reach out to your local Grimco representative. They will be more than happy to answer any questions you may have!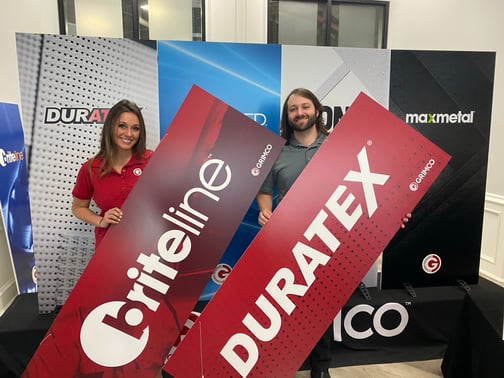 Briteline Product Line Managers Erin and Wade