The Partnership of Front Signs and Grimco
Front Signs, one of our loyal customers, asked if they could guest write a blog post about their company growth and their partnership with Grimco throughout. Read further to navigate through the relationship between our two companies, and how a great partnership can create a strong foundation for business.
---
Front Signs, established in 2016, is a growing signage company based in Burbank, CA - currently the biggest in the area. The company offers end-to-end sign making services from design and manufacturing, to installation and maintenance. Front Signs provides all kinds of interior and exterior solutions from 3D signs to channel letters, monument signs, marquee letters and beyond.




Milestones Achieved

Front Signs recently moved to a larger facility, expanding its capacity to work on grand-s
cale p
rojects. Over the course of its existence, Grimco has been their trusted supplier and continues to provide them with the best quality materials and equipment for successful business operations.
The partnership began back in 2017. Since then, Front Signs has significantly expanded its manufacturing operations. Grimco has had its fair share in the company's success and vice versa. The mutually beneficial partnership between the companies is notable. Front Signs has a reliable supplier of high-grade materials and Grimco has a life-long business partner.





Grimco's Input
Grimco is a wholesale supplier of sign making and printing materials and equipment for qualified signage companies. The company has over 60 locations across North America, sourcing supplies from renowned companies such as 3M, HP, EPSON and beyond. For the past few years, Grimco has provided Front Signs with the majority of their sign making and printing materials, accessories and equipment. This includes top selling mediums such as acrylic, gatorboard, aluminum, channel letter coils and more.
Grimco encompasses all the best qualities required for an ongoing partnership. The attributes that make Grimco a great partner cover all areas!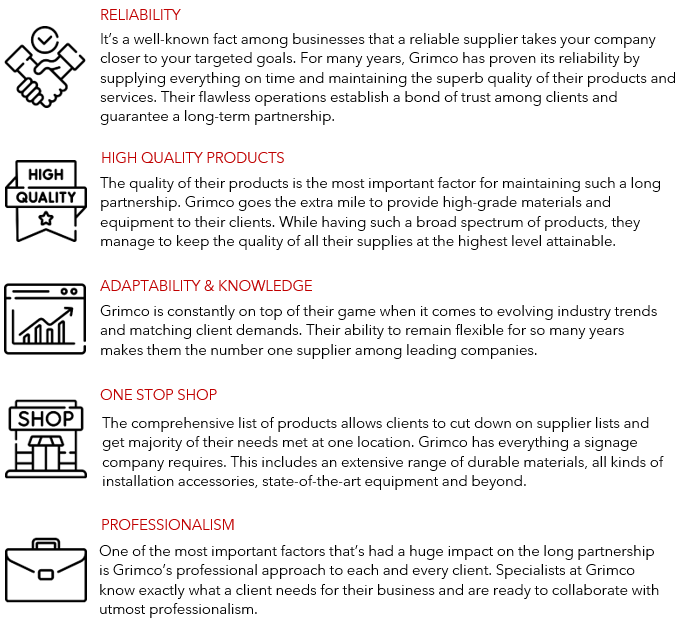 Conclusion
It's a great success for a business, especially in the manufacturing sphere, to have a reliable supplier. Grimco has all the best features of a loyal partner - always supplying sign manufacturers with top-quality materials and the latest equipment. The partnership is guaranteed to continue for the long run and generate value for both sides.
Thank you to Front Signs for guest writing a Grimco blog and for the kind words and partnership!