On a daily basis, businesses and individuals are challenged to make sustainability a priority. We constantly see positive changes and developments such as electric cars, solar powered buildings, reforestation, and so much more. In some industries it can be pretty simple to join the sustainability movement, but what does that look like for the signage industry? Well, you've come to the right place to find out!
First, lets go over what "sustainability" truly means. According to the U.S. Environmental Protection Agency, sustainability can be described as:
"Everything that we need for our survival and well-being depends, either directly or indirectly, on our natural environment. To pursue sustainability is to create and maintain the conditions under which humans and nature can exist in productive harmony to support present and future generations."
Now that we know the true meaning of sustainability, let's dive into what the sustainability movement looks like in the sign industry.
The Sustainability Revolution
Everyone has a social responsibility to take care of our planet, however, businesses and municipalities around the world play a LARGE role in bringing a positive change to our environment. With that being said, businesses are being called to partake in a sustainability revolution. To accomplish this market transformation, businesses and municipalities will have to adopt new business strategies and models. Many businesses have started this positive change by incorporating sustainability guidelines and requirements into their corporate social responsibility models. Ultimately, businesses benefit from a sustainability agenda because it puts them in a better position to attract investors, consumers, and handle changes in the environment.
So what does this have to do with the sign industry? Well, this sustainability revolution is actually happening right now and the market is already changing. Businesses have already implemented sustainability guidelines for their own graphics and signage. For example, companies are leaning more towards recyclable signage materials, low voltage lighted signs, environmentally conscious manufacturing, and more. Ultimately, being able to provide environmentally friendly products and solutions in the sign and graphics industry is on it's way to becoming the new normal.
Opportunity for Sustainability Improvement
While businesses and municipalities are working towards positive change by incorporating new sustainability guidelines, it's important to note those efforts won't look the same across all industries. Here are some areas we should consider when thinking about sustainability in the sign industry:
High Voltage Lighted Signs: Reducing energy consumption is one of the "most cost-effective ways to save money" and "reduce greenhouse gas emissions" (Epa.gov). Traditional neon and fluorescent signs use much higher energy percentages compared to LED signs. Converting all signs to LED lighting will be a significant help to reducing energy usage.
High Amounts of Material Waste: The sign industry produces a large amount of material waste through production scraps and non-recyclable materials. Most signage materials are not easily broken down for repurposing. Ultimately, this means large amounts of signage waste ends up harming the environment.
Chemical Pollution: Chemical pollution is harmful to the health of humans and our environment. Many sign making materials are made from harmful chemicals. For example, plastic based substrates and media options made from PVC release toxins in the air during manufacturing. After plastic materials are used and gone to waste systems, it can take many years for them to break down, ultimately contaminating our soil and eco-system. Choosing materials that avoid using harmful chemicals as a main manufacturing component can help reduce the amount of chemical pollution in our environment.
Below are four important sustainability strategies the sign industry can practice
How Sign Businesses Can Practice Sustainability
🌎 High Efficiency LED lighted Signs
Replacing traditional neon and fluorescent lighting systems with LED modules has been a positive movement in the sign industry for some time now, but there are still some traditional signage pieces out there using too much energy. Most LED lighting systems use about 50% less electricity compared to traditional lighting systems. Utilizing high efficiency LED lighting can help save our environment AND the end users energy costs! For example, Creative Sign Designs in Tampa, FL:
"retrofitted the old school non-energy efficient fluorescent bulbs with a high-end LED product. This product is estimated to save Gator Ford 10% a month in energy costs with a return on investment of fewer than 2 years. It took half of the LED lights to make their lot twice as bright!"
Our exclusive brand, HanleyLED, specializes in providing high efficiency products that help save the environment. The HanleyLED PhoenixNRG Series is a family of modules and light bars that produce 170 lm/watt. This means our LEDs make signs brighter while using fewer power supplies. Less power supplies also means less labor! In the end, HanleyLED products help save our planet, while also helping customers save on material, labor, and energy costs!
Ultimately, if you or your customers have a choice between LED or traditional lighting, choose LED lighting and increase your energy efficiency. We understand there will be situations where the end user prefers a traditional look, but choosing sustainability is easy with these alternatives...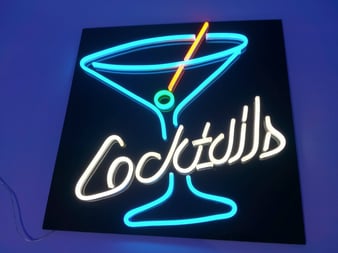 Neon alternative: G2G Aurora Flex & Aurora Flex Mini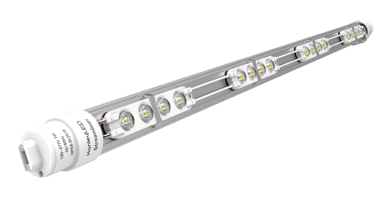 Fluorescent Retrofit Alternative: HanleyLED PhoenixNRG Streamliner (Powered by socket)
🌎 Reduce, Reuse, Recycle
The easiest way to incorporate sustainability is by doing what you already know: Reduce, Reuse, Recycle. The best practice is to use material that can be re-purposed. In an ideal sustainable sign industry, all projects would be printed directly on paper or easily recyclable material. Why is that ideal? Well, there are a couple reasons. Reason 1: Printing directly on substrates vs printing on vinyl and mounting to a substrate reduces the amount of plastic being used. Reason 2. Using paper or easily recyclable material reduces the amount of harmful non-biodegradable materials in waste management systems, ultimately reducing the amount of harmful toxins in our environment. This is why more and more businesses are regulating their signage and requiring more paper or recyclable materials. Below are just a few environmentally friendly materials we offer:
Recyclable Substrates
100% recyclable paper based
Recycle code = #21 PAP Non-corrugated fiberboard
Applications: Retail displays, indoor signage, POP displays, Tradeshow Displays, High Humidity applications.
Alternative for traditional foam board and PVC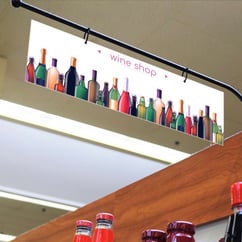 100% Recyclable paper based
Recycle code = #20 PAP Corrugated Fiberboard
Applications: Retain displays, indoor signage, POP displays, Tradeshow Displays.
Alternative for traditional foam board and PVC

100% Recyclable Polypropylene
Recycle Code = #5 PP
Applications: Outdoor signage, yard signs, trade show displays, POP displays
Did you know? Corrugated plastic is accepted in most local curbside recycle bins

Recyclable Media
100% recyclable paper based media
Recycle Code = #22 PAP Paper
Applications: photo quality prints, posters, indoor advertisements, outdoor advertisements, proofing
Did you know? Briteline Photo Paper is accepted in almost all recycling locations?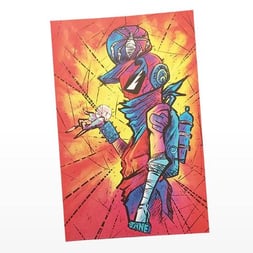 Find your local recycling program here
🌎 Reducing Chemical Pollution
Most sign making materials use harmful chemicals in the manufacturing process. If using paper or easily recyclable material is not an option, there are alternatives to being more sustainable. For instance, consider the manufacturing components of the material. Choosing products made with previously recycled materials or limited amounts of harmful chemicals. Keep and eye out for products marked as PVC free or recycled PET. Here are a few environmentally conscious materials we offer:
Made from woven polyester
PVC free
Applications: wall graphics, floor decals, posters, labels, stickers,
Did you know? Rad Grafix Textile is a removable adhesive fabric that can be mounted to any surface and re-positioned countless times but still retain its adhesion without leaving residue.


Made from 80% recycled polyester film
Permanent and Removable Adhesives
Application: Window Graphics


Non-PVC vinyls
Calendared
Overlaminates

8590M/8588G Anti-Graffiti Wrap Overlaminate
8048G/8050M Gloss/Matte Overlaminate
8548G/8549L/8550M Gloss/Luster/Matte Wrap Overlaminate

Wrap Film

LX480mC Printable Wrap Film
SV480mC Printable Wrap Film


Non-PVC vinyls
DOL 6460 Overlaminate, Clear Liner: high performance digital overlaminate
MPI 3901 Promotional Film: short term promotional applications requiring removable adhesive performance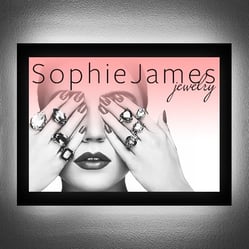 PVC- Free FilmsOraguard 236 and 289F Laminating films
Environmentally friendly wrap


Orajet 3981RA Premium Eco Digital Print Film with RapidAir
Orajet 3981RA + ProSlide Wrapping Cast Film with RapidAir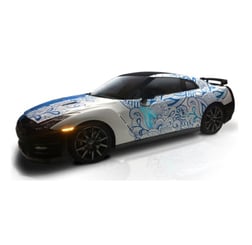 🌎 Equipment Sustainability
As noted above, positive change can be accomplished by incorporating sustainability guidelines and requirements into everyday business operations. In the sign industry, it's important for sign makers to set guidelines in the printing process. A sustainable printing process should limit harmful toxins, material waste, and energy consumption as much as possible. Luckily, our equipment partners provide eco-friendly certified products to help sign companies reduce their environmental impacts while also improving their business efficiency.
HP
Epson
Epson SureColorV7000 UV Flatbed Printer is RoHS compliant
Participant of the EPA's SmartWay® program
Epson UltraChrome GS3 Inks do not require special ventilation or air purification
Recyclable ink program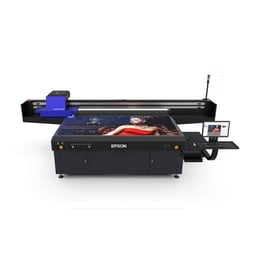 Mimaki

Do you recycle your empty inks and printheads? Stay tuned for a NEW blog sharing extensive details on how to reduce your ink and printhead waste! Coming soon!
As a sign supplies distributor and manufacturer, it is our responsibility to reduce our carbon footprint and provide our partners with solutions and materials to do the same. We are dedicated to finding more ways to provide sustainability knowledge and incorporate environmentally friendly products in our offerings. Together, our sustainability efforts and environmental impacts are limitless!